Donald Trump and Trumpist Republicans have been quick to blame Joe Biden and the Democrats for the $1.2 trillion infrastructure bill signed into law last week, but Trump and company are the ones responsible for this scam because they laid the groundwork for it.
In other words, it's the politics of the situation they're upset about, not the policy itself.
Donald Trump announced his intention to spend $1 trillion or more on infrastructure in March 2017 during his first State of the Union address. In January 2018, Trump gave his second State of the Union address where he repeated his intention to push for massive infrastructure spending. Later that year (July 2018), Republicans in the House released a Trump-inspired infrastructure-spending plan in the hope of staving off the 2018 Blue Tsunami and save their majority.
By the way, Republicans planned to pay for the infrastructure boondoggle by raising gasoline taxes 25-cents-a-gallon after Donald Trump said he would back such a tax increase.
Having failed to save the 2018 midterm election, the New York liberal proved that Andrew Breitbart was right years ago when he said that Trump possessed no conservative values after he immediately went to work on a new $2 trillion infrastructure bill. Hey, if $1 trillion isn't enough to buy an election, maybe spending twice as much will do the trick, right?
Trump's $2 trillion number wasn't arbitrary. A few months after the Democrats' victorious 2018 midterm election (March 2019), Nancy Pelosi let it be known that any infrastructure plan "[had] to be at least $1 trillion" but "[she] would like it to be closer to $2 trillion."
Why did Pelosi want an additional $1 trillion? She wanted a "bipartisan" infrastructure package that included provisions dealing with so-called climate change along with "broadband, water, energy, schools, housing, and other initiatives."
Hey, aren't those some of the things included in Biden's infrastructure plan? Things that make you go, "hmmm…"
The Trump/Pelosi connection on the infrastructure issue was confirmed a few days later when Trump teamed up with her and Chuck Schumer to discuss ways to give Democrats everything they wanted, including the $2 trillion price tag.
Calling the meeting with his New York liberal counterpart "very productive," Schumer praised Trump for the "good will" he showed and for how he was eager to push infrastructure spending up to $2 trillion. "It's clear that both the White House and all of us want to get something done on infrastructure in a big and bold way," Schumer told reporters.
But Chuck and Nancy weren't the only people pleased with the meeting. Then-White House Press Secretary Sarah Huckabee-Sanders said in a statement that the meeting was "excellent and productive." And even though she refused to confirm or deny the $2 trillion price tag — which is how Washington confirms bad news without going on the record — Huckabee-Sanders confirmed Trump's desire to do something YUGE with infrastructure.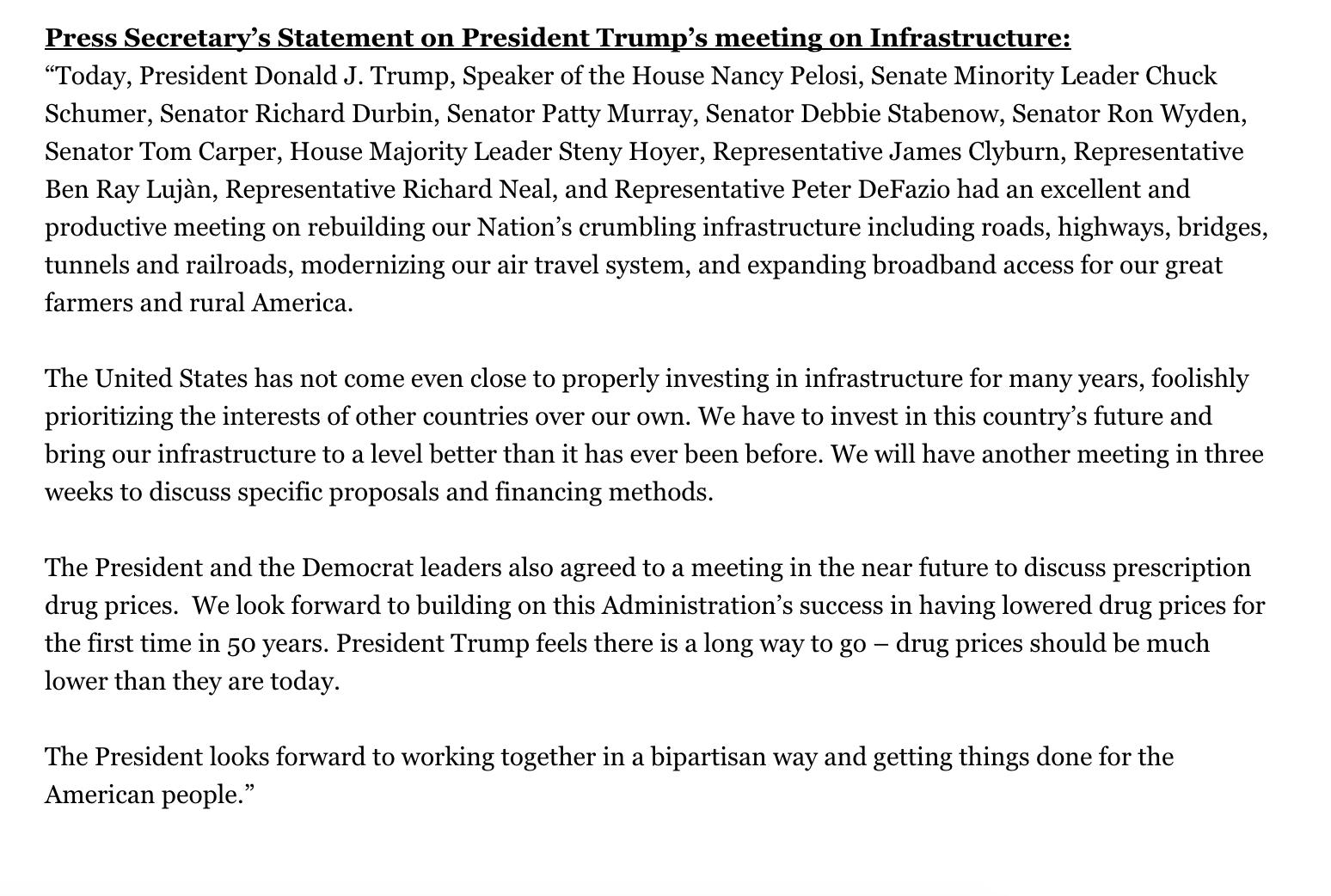 The infrastructure issue laid dormant for a few months until COVID arrived on the scene.
Faster than you can say, "never let a crisis go to waste," Trump and Pelosi began making plans in April 2020 to spend $2 trillion on infrastructure as part of a stimulus package in response to coronavirus hysteria; this bill was in addition to a $2.2 trillion stimulus package passed days earlier that left Obama and Bush in the dust when it comes to "bailouts."
"There are infrastructure needs that our country has that directly relate to how we are proceeding with the coronavirus," Nancy Pelosi told reporters at the time. "And we would like to see in what comes next something that has always been nonpartisan, bipartisan, and that is an infrastructure piece that takes us into the future."
A trillion here and a trillion there, and pretty soon, you're talking real money.
To ensure no misunderstandings about his desire to spend trillions of dollars on infrastructure, Trump tweeted the following after Pelosi made her announcement:
With interest rates for the United States being at ZERO, this is the time to do our decades long awaited Infrastructure Bill. It should be VERY BIG & BOLD, Two Trillion Dollars, and be focused solely on jobs and rebuilding the once great infrastructure of our Country! Phase 4

— Donald J. Trump (@realDonaldTrump) March 31, 2020
Throughout his presidency, Trump peddled his plans for spending YUGE amounts of money on infrastructure. Do you remember his oft-mentioned "infrastructure weeks," held so often that the phrase became a joke?
In nearly every way you can imagine, Donald Trump's infrastructure plans laid the groundwork for Joe Biden's because they both believe in the idea of big government and spending trillions of dollars to make it bigger. Heck, even one of the Republicans who voted for Biden's infrastructure bill said this is the reason she voted for it:
lmfao

Rep. Malliotakis credits Trump for infrastructure getting done

"President Trump laid the groundwork for this infrastructure to pass … I'm happy and appreciative to President Trump for being one of the first to talk about the need for infrastructure"

h/t @AlexGuiden pic.twitter.com/wK1EIxCx6J

— Lis Power (@LisPower1) November 8, 2021
The Congressional Budget Office estimates that Biden's infrastructure plan will add as much as $400 billion to the budget deficit, which serves as one more reason to blame Trump and Republicans, not Joe Biden and the Democrats.
During Trump's presidency, he and the Republican Party gave up even the pretense of caring about the growth of federal spending. Under their "leadership," we witnessed an increase to the national debt of nearly $8 trillion in four years — roughly the same increase Obama gave us in eight years — and that was a continuation of the explosion in the national debt we were handed under varying degrees of GOP control of Congress and the White House since 2011.
And that's why we should blame Trump and Republicans for the infrastructure scam, not Joe Biden and the Democrats.
---
David Leach is the owner of the Strident Conservative. He holds people of every political stripe accountable for their failure to uphold conservative values, and he promotes those values instead of political parties.
Follow the Strident Conservative on Twitter and Facebook.
Subscribe to receive podcasts of his daily two-minute radio feature: iTunes | Stitcher | Tune In | RSS